Courses run once a week throughout the school year from September till April. Different courses are offered including mobile app development, robotics and Arduino programming.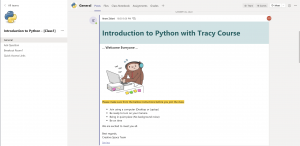 Introduction to Python with Tracey Online Course
Students will learn the basics of programming in the Python language through instructing Tracy, the turtle. They will learn Python commands, functions, and control structures by solving puzzles and writing creative programs for Tracy to follow.