Courses run once a week throughout the school year from September till April. Different courses are offered including mobile app development, robotics and Arduino programming.  

Cozmo Coding with Blockly 
Students will get a hands-on introduction to the Blockly programming language, one of the world's most widely used programming languages with Cozmo, the friendly robot.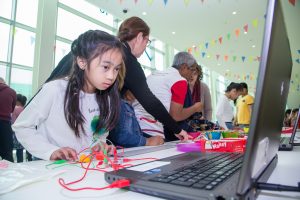 Exploring Micro:bit
Students will learn how to program electronics using the BBC micro:bit, a microprocessor designed specifically to teach programming through physical computing i.e. computing to control hardware in the physical world. They will discover how engineering and programming work together to make new and exciting inventions.